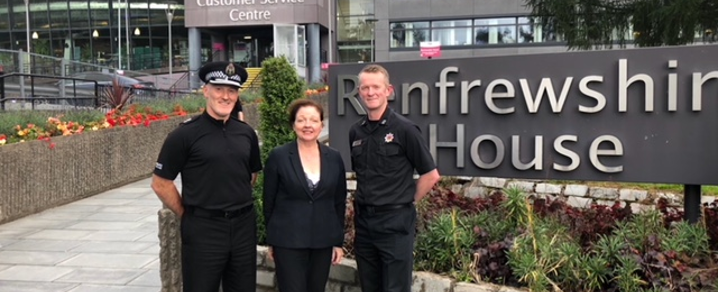 Partners working together to deliver efficient emergency services in Renfrewshire
Emergency services across the United Kingdom are being celebrated today (9 September) as part of the inaugural 999 Day, established to recognise the work of our blue light services and will now be marked annually on 9 September.
In Renfrewshire, key partnership working from Police Scotland, Scottish Fire and Rescue and Renfrewshire Council is proving successful and is making its streets and communities safer.
The Police, Fire and Rescue Scrutiny Sub-Committee recently marked a year since its first meeting and regular updates are proving successful in raising confidence in safety in Renfrewshire.
Established to allow scrutiny of the performance of the emergency services and provide context to crime and fire safety statistics, the committee allows elected members to question key officials on the current situation in Renfrewshire and gain assurance on the future direction of the services.
Divisional Commander, Chief Superintendent Gordon Crossan, said: "The elected members are the voice of our communities and rightly hold myself and my team accountable for delivering a high-quality service.
"All too often we focus on crime numbers without context, however the sub-committee allows for a more engaging discussion and provides an excellent forum for myself and my senior staff to update members on the excellent work we have done as well as outlining any particular challenges we may be facing."
The two emergency services use the meeting to outline their strategic direction for Renfrewshire as well as providing a detailed summary of the previous reporting period, which highlights key statistics and any current issues.
A spotlight section also provides the opportunity for all partners to showcase initiatives or challenges, with examples including a tour of the new armed response vehicles in Renfrewshire, a presentation on the prevention of wilful fire raising and the plan to commemorate a fallen firefighter.
Graeme Binning, Scottish Fire and Rescue Area Manager for East Renfrewshire, Renfrewshire and Inverclyde, said: "Having the support of the committee behind our Area Plan for Renfrewshire gives us the confidence that the priorities of the Fire Service are aligned with the local authority and the community planning partnership partners.
"The sub-committee provides a strong and supportive platform to scrutinise the performance of the Fire Service and allows us the opportunity to work with Police Scotland to highlight ongoing initiatives and partnership working."
Elected members from across all parties are invited to attend on a rotational basis to ensure that fresh outlooks can examine and support the services and raise issues from across all electoral ward areas.
Chair of the Sub-Committee, Councillor Marie McGurk, said: "The work of both the emergency services in Renfrewshire is outstanding and it is important to recognise the breadth and scale of the challenges which they face daily.
"It is important that we question and query the work that is being done to ensure that all our communities are safe and protected - but the answers we obtain are extremely positive and its clear our residents are in very good hands.
"We will continue to work closely with both the services to provide our support as well as providing our communities with the knowledge that we are striving to make a Renfrewshire a thriving, safe place to live and work in."
The sub-committee will meets every two to three months and will next come together on 30 October 2018.
Chief Superintendent Crossan, added: "Our aim is always to deliver the most effective and efficient police service we can during these challenging times.
"The support of the sub-committee is crucial in ensuring that road is as smooth as possible with partners all working together for the common purpose of keeping our communities safe."
For more information on Emergency Services Day, visit www.999day.org.uk.
Published 9 September 2018.