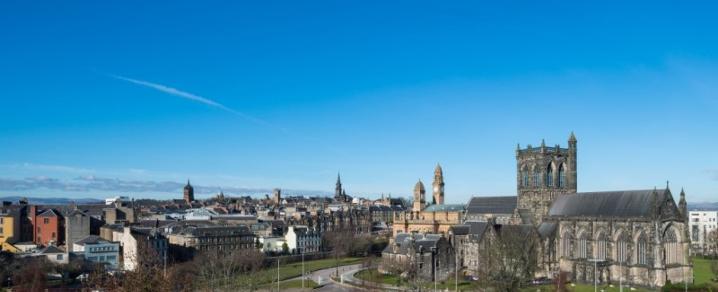 Paisley town centre business survey
Renfrewshire Council and it partners have big plans to bring new footfall and life to Paisley town centre - we want to know how best to keep local businesses updated on what's going on.
We understand changes to how people shop and live have made recent years challenging ones for town centres everywhere, and that Paisley has felt the impact of that. But we can't turn the clock back - our strategy is to use what sets Paisley apart as a destination to bring new footfall and life into the town centre and benefit the businesses based here.
Work is well under way on a £100m investment in Paisley town centre over the next few years which includes turning our historic venues into 21st-century facilities capable of hosting the expansion of visitors, events and cultural activity the area will attract. That includes:
- a £42m transformation of Paisley Museum into a world-class destination showcasing the town's globally-significant heritage and unique collections, expected to attract 125,000 visitors a year.
- a £22m revamp to preserve Paisley Town Hall's status as the town's civic hub and make it a flagship performance venue for Renfrewshire and the west of Scotland, doubling visitors to an estimated 100,000 a year.
- an extension and refurbishment of Paisley Arts Centre, a new learning and cultural hub housing library services in a formerly-vacant High Street unit, investment in town centre transport links and outdoor spaces, and ongoing work to help owners restore historic buildings;
That will build on what is being delivered through the area's major events programme, the positive impact of Paisley's bid to be UK City of Culture 2021, and the launch of the paisley.is destination brand to sell the area as a place to visit, live and invest.
But investment of the type described above means our venues need to close for refurbishment. The museum will close in September and reopen in 2022, the town hall shuts at the end of 2018 and reopens in 2021, and the Arts Centre will close in summer 2019 and reopen in autumn 2020.
The council's major events and Renfrewshire Leisure's year-round cultural programme will continue during that period - although some of the latter will move to temporary homes. The council and its partners are determined to work closely with you to keep you up to date, minimise any impact on trade, and make sure you are ready to benefit from the long-term increase in footfall the investment will create.
To help us do so, we want to find out a bit more about how the work will impact on you, the best way for us to keep you informed of what's going on, and your views on Paisley's regeneration. We appreciate you taking the time to fill out the short survey - your answers will help us work with you better.