Your bin collections are changing
Soon you'll be receiving a new green bin for plastics, cans and glass along with a change to the frequency of your bin collections.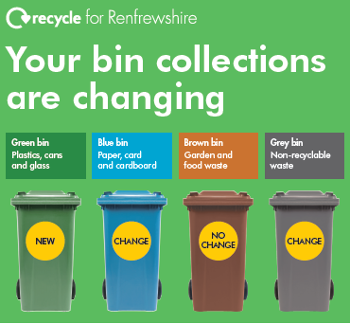 The increasing costs of waste disposal and the demand for higher-quality recycling means this change is needed.
From November, we will begin to deliver a new green bin to households in Renfrewshire which will be used to separate your recycling into plastic, cans and glass (green bin) and paper, card and cardboard (blue bin).
This will allow better quality recycling to be collected, lowering our disposal costs, and allowing savings to be reinvested into vital public services such as our schools, roads and caring for the most vulnerable in our communities.
The new collection service will be as follows:
- The blue bin will now be collected every four weeks - alternate fortnightly with the green bin.
- The green bin will be collected every four weeks - alternate fortnightly with the blue bin
- The grey general waste bin will now be collected every three weeks
- The brown garden and food waste bin will continue to be collected every two weeks
You will still have at least one bin collected every week.
All details of changes to your collection will be communicated to you in advance as you'll be provided with an information guide, collection calendar and stickers illustrating what should go in each bin.
We're holding roadshows across Renfrewshire throughout September too where you'll be able to speak to one of our Waste Advisors on any issues you may foresee with the new service.
For a full list of dates and times, as well as further information on the changes, you can visit the My Bins section or call 0300 300 0300.