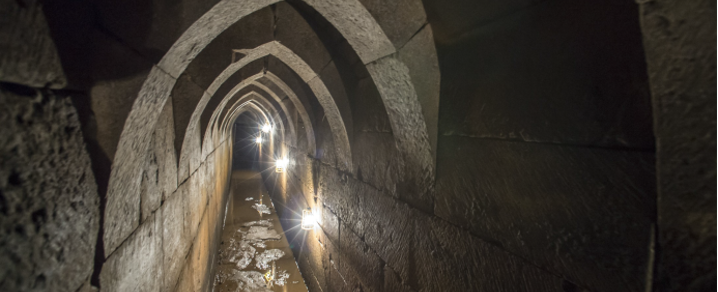 Explore Paisley's Abbey Drain this Doors Open Days
The Abbey Drain is an archaeological and architectural gem, and for the first time members of the public have the chance to experience it first-hand.
Exclusively for Doors Open Days members of the public can enjoy 15-minute guided tours of the Abbey Drain on Saturday 8 and Sunday 9 September, led by an archaeologist and expert on the drain.
Spaces on the tours are limited, however there will be a whole host of interesting activities inspired by the medieval passageway available during the Doors Open Days weekend for those unable to take the tour.
The Abbey Drain was first discovered in 1879 and then rediscovered in 1990. It's considered that the earliest phases date to between AD 1350 and 1400.
Archaeological investigations have discovered many treasures preserved in the silts from the drain, some of which are currently on display in Paisley Abbey and include a slate with the first piece of written music in Scotland, a medieval love poem and lead seals from cloth which show that the abbey imported cloth from many parts of Europe including the Netherlands and Italy.
Preliminary archaeological investigations suggest that there is more to the structure than it first seems and there is much speculation about the drain's true form and purpose.
Activities during Doors Open Days will be led by archaeologist firm GUARD Archaeology Limited.
GUARD Archaeologist, Bob Will, said "We don't really know the full extent of the purpose of the passageway, or why it's so well built. It appears to have been built in several sections over time and may have been extended.
"Last year the Wee Dig, held as part of the Year of History, Heritage and Archaeology, attracted over 1,000 people to a weeklong dig, excavating some of the area surrounding the drain.
"This will be the first time members of the public have had the chance to go inside the medieval structure and I hope they will all be as intrigued as we are about it's true purpose."
Renfrewshire's Provost Lorraine Cameron said "The Abbey Drain is located right in the heart of Paisley town centre and is shrouded in mystery to many of us.
"This is a very exciting opportunity to experience it first hand and is perfect for anyone interested in architecture, archaeology and the heritage of Paisley.
"If descending underground isn't for you, don't worry as there will still be a range of activities taking place outside the drain for archaeology buffs of all ages to enjoy."
Places on the tours will be allocated by a ballot. For more information and to enter visit PaisleyIs.
The tour is not suitable for those who have mobility issues, those who are pregnant, those with a history of heart conditions or claustrophobia, or children under 12 years old.
Access to the drain is via a manhole and a 15-foot vertical ladder. The ground is not level underfoot and standing water of up to 4-inches exists in places.
If you are successful, appropriate clothing and footwear is required to participate.
Published 15 August 2018