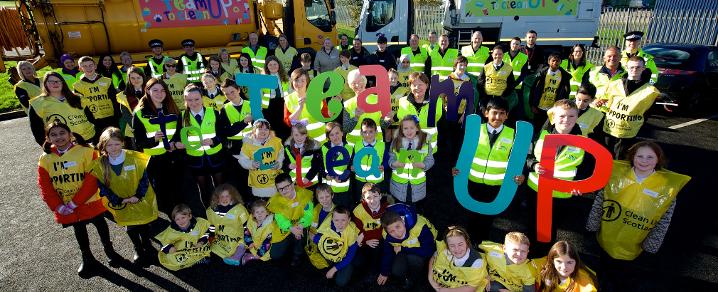 Team Up to Clean Up goes from strength to strength
Our flagship environmental campaign will see a £2.5million investment across the next five years.
Cleaner streets, enhanced community spirit, changed behaviours are just some of the benefits which Renfrewshire is experiencing thanks to our Team Up to Clean Up campaign.
Thousands of you have donned a bib, picked up a litter picker and donated your time to make a difference to your local area - and we can't thank you enough.
We're working hard behind the scenes to ensure we put in every ounce of effort that you do, with our gully cleaners, road sweepers, community litter pickers and Rapid Response Teams working as hard as possible to change our area for the better.
This is an ongoing campaign, one without an end date, and we're excited to see just how much more we can do together to make Renfrewshire brighter, cleaner and a more attractive place to live, work and visit.
Here's a few of the highlights so far:
Big Spring Clean
More than 1000 volunteers took part in 31 clean ups across an action-packed weekend of events in April.
We collected more than 500 bags of rubbish as pupils, volunteers, police officers,local businesses and elected members worked side by side to make a noticeable difference to the area.
We're planning another one soon so keep your eyes peeled!
Mass community dog walk
A mass community dog walk sets tongues and tails wagging across Renfrewshire as more than 50 people brought dogs of all shapes and sizes to an event at Robertson Park.
The event highlighted the responsibilities of dog owners to look after their pets, ensure they are microchipped and always pick up after them.
Those in attendance signed up to our Responsible Dog Ownership pledge which aims to show that the majority of dog owners always pick up after their dogs and try to change the behaviour of those who don't.
Roadside Litter
We've identified that roadside litter is a real problem and we're urging motorist to stop and think before they throw any litter from their vehicle.
We supported Keep Scotland Beautiful's week-long campaign on the issue which asked drivers to 'Give their litter a lift' and aims to eradicate the problem and bring our verges back to their natural best.
We've also created a Roadside Litter Rapid Response Team who will tackle the issue on rural roads but will also be able to tackle any area which is identified by members of the public as having a significant problem and put this at the top of their priority list, where possible.
Alongside this work, hundreds of you are dedicating yourself to this campaign every month in all manners, large or small.
Thank you for the work you do, and if you don't at the moment then why not join in?
To find out more, click on Team Up To Clean Up under 'related articles'.