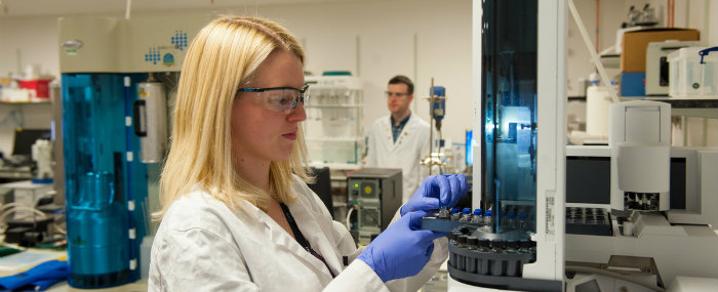 Multi-million medicine manufacturing centre coming to Renfrewshire
Renfrewshire will be home to a £56million innovation centre set to revolutionise medicine manufacturing, the latest in a series of major developments to be built in a new innovation district.
The industry-led Medicines Manufacturing Innovation Centre (MMIC) is to be built at the heart of an emerging innovation district in Inchinnan.
Supported by Scottish Enterprise, Innovate UK, GSK and AstraZeneca, the centre will put Scotland and the UK at the forefront of technology and innovation in a market worth £98billion globally.
It aims to attract £80million of research and development investment in the next ten years and is expected to create 90 jobs during construction and 80 high skilled positions by 2023.
The new centre will be built alongside the National Manufacturing Institute for Scotland (NMIS), announced by First Minister Nicola Sturgeon in December 2018.
And it will also be located next to the Lightweight Manufacturing Centre, Scotland's only facility for the research and development of lightweight components, opening later this year at nearby Westway Business Park.
These facilities will form key tenants of a new innovation district, with the underpinning roads and routes being delivered through Renfrewshire's £39.1million Glasgow Airport Investment Area project which is funded through the Glasgow City Region City Deal.
This includes realignment of Abbotsinch Road, construction of a new link bridge over the White Cart and new cycle and pedestrian routes, improving connections between the district and Westway, Inchinnan and Airport business parks.
"We have a proud tradition of innovation in manufacturing and these exciting developments can make Renfrewshire the beating heart of Scotland's manufacturing sector once again," said Renfrewshire Council Leader Iain Nicolson.
"Manufacturing is a key contributor to the Renfrewshire economy and employs more than 9,000 people, with world famous companies based here. The innovation district has the potential to attract more businesses to the area, create thousands more jobs and provide more opportunities for existing businesses to thrive."
Published on 15 June 2018