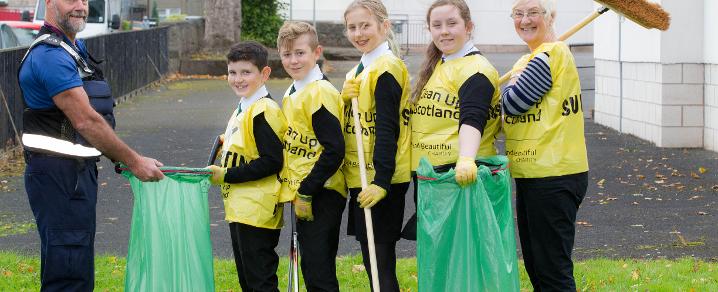 Team Up to Clean Up campaign is 'going from strength to strength'
Renfrewshire's flagship Team Up to Clean Up campaign is 'going from strength to strength' according to Infrastructure, Land and Environment Convener, Councillor Cathy McEwan.
The campaign, which received a £2.5million investment in the 2018/19 budget, is striving to make Renfrewshire a more attractive place to live, work, visit and invest in and has empowered communities to take pride in their local area as part of a coordinated campaign with the Council.
Since it was launched in October last year, more than 2100 volunteers have taken part in more than 80 clean up events - including more than 1000 who took part in Renfrewshire's Big Spring Clean over one weekend in April.
Communities have also supported a drive to tackle dog fouling within the area with more than 50 turning out to support a mass community dog walk in Robertson Park, as well as more than 100 signing up to the Responsible Dog Ownership pledge.
There has also been significant engagement with the campaign reaching more than 1.3million people in print and online media, and more than 350 members have joined the dedicated Facebook page to share ideas, seek support and showcase their good work.
Councillor McEwan said: "The community were always designed to be at the heart of this campaign and the support that local people have shown has been incredible.
"Across Renfrewshire, volunteers are taking advantage of the support offered by the Council, donning their bibs and grabbing their litter pickers to make a difference to their local area.
"The campaign is going from strength to strength and we're working alongside the community every step of the way."
The support behind the scenes provided by the Council is making a real difference to the quality of Renfrewshire's local environment, with more than 15,000 gullies cleaned through an enhanced programme which is improving the cleanliness of the streets and lowering the risk of flooding.
Streets in Renfrewshire are being swept three times as often since the launch of the campaign and this work is being supported by six community litter pickers working to carry out daily cleaning and providing a presence in the towns and villages.
There has also been an increase in enforcement activities with 38 fixed penalty notices issued to people caught littering and nine dog owners issued with fines when caught failing to pick up after their pets.
Councillor McEwan added: "This campaign will only work if we provide the key services to make a tangible difference to the streets.
"With £500,000 committed every year for the next five years, we have put the assurance in place that we will make a positive difference to Renfrewshire's local environment and produce cleaner, more attractive communities to live in.
"We're overwhelmed with the support we've received from the local community so far but this is only the beginning and we're committed to continuing to clean up our streets and make Renfrewshire a place people are proud to live.
"I hope that people are inspired by the work of their fellow residents and take the time, be it five minutes or five hours, to join us in the campaign as we Team Up to Clean Up."
Join the discussion on the Facebook group here.
Published 25 May 2018