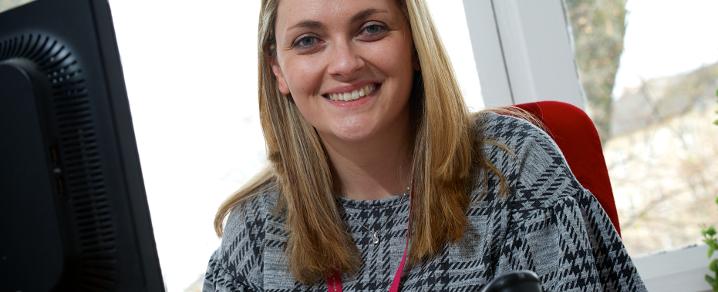 Amy on hand to guide fosterers every step of the way
As the dedicated contact for the Council's foster carers, social worker Amy McGranthin says that one of the most important requirements for the role is having a big heart.
To mark Foster Care Fortnight and the Council's aim to have 100 foster carers, she tells how she supports people on every step of the journey.
Amy, whose role is solely to support foster carers, said: "You don't have to be perfect. Lots of people think you need to have specialist knowledge to become a foster carer but I think the most important thing is to have a big heart.
"As long as you are open minded and nurturing, put the child first and are willing to work as part of a team, you can learn on the job."
Amy is on hand to help, support and listen and guide foster carers through anything they need help with and she added: "Carers need someone to be there just for them and who they can rely on. They do a really hard job and need someone to answer questions and provide guidance whenever they need it. You really get to know people through the approval process and it's good for them to have someone they know really well and who there's an existing relationship with.
"I'm a link between them and the child's social worker."
She says it's about more than just putting a roof over a child or young person's head.
She said: "Foster care is about giving them somewhere to be safe to learn the life skills they weren't able to before for whatever reason and for them to be able to just be a kid.
"It's the child feeling they have a team of people in their corner, rooting for them and being given the opportunity to be the best version of themselves"
There are different types of foster families, from interim to permanent, but Amy says the aim is always for the child to feel part of that family and that this is their home too.
She said: "Carers should have good judgement and common sense and treat the child like they would their own. It's about being realistic.
" Circumstances can also change. We have two people who only wanted to provide respite foster care, but they literally feel in love with the children and now have them full time and will have them forever."
Foster children do often move on, back to their birth families if it's possible, or are adopted.
Amy said: "It's a loss for the carer and foster family and it affects everyone. My role is about being there for them and ensuring they feel part of the future plans.The best way to support them is to ensure they feel included every step of the way and to reassure them that the decisions are made for the best.
"It's about what is best for the child and giving them the best start in life to allow them to be the best version of themselves.
"It's a privilege to be a foster carer."
Ends
Article published 16 May, 2018