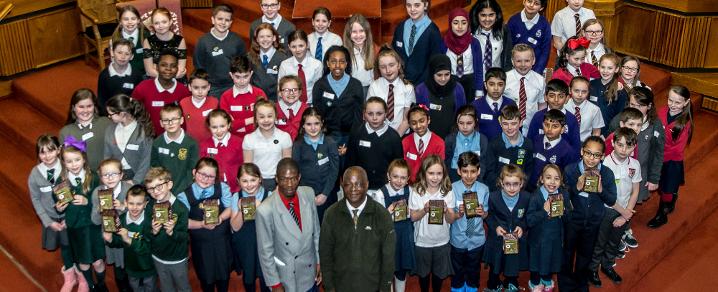 Malawi coffee producers visit Renfrewshire to outline the benefits of fair trade
Schoolchildren and the local community were given a firsthand insight into the difference fair trade can make to people's lives with a special visit from two coffee producers as part of Fairtrade Fortnight.
Bernard Kaunda and Christopher Gondwe of Mzuzu Coffee spent the day in Renfrewshire as part of a trip hosted by local fair trade organisation Rainbow Turtle, in conjunction with Scottish Malawi Partnership and the Scottish Fair Trade Forum.
The two producers met 59 pupils from schools across Renfrewshire and Glasgow, where they taught the children about Malawi, the process of fair trade and their own story of producing coffee to be exported around the world.
The producers were then the stars of an open evening held at the Methodist Church Hall in Paisley, where local community members were afforded the opportunity to hear the story of Mzuzu Coffee and how fair trade makes a difference to Bernard and Christopher's lives.
Renfrewshire's Provost Lorraine Cameron, who attended the event, said: "It was fantastic to meet these inspiring producers as they visited Renfrewshire and I was delighted to officially welcome them to the area.
"The chance for our pupils to listen to a real life producer telling their story firsthand is immeasurable and this will hopefully encourage them to support fair trade throughout their lives.
"It is extremely important that we recognise the positive difference that fair trade makes to the lives of producers like Bernard and Christopher that a small change to your shopping habits can make a huge difference to the people at the beginning of the process.
"Fair trade does not only exist during this Fortnight, so please take the time to learn more about the issue, purchase fair trade alternatives where you can and join the fair trade movement in Renfrewshire."
Fairtrade Fortnight runs from Monday 26 February to Sunday 11 March, and this year's theme is 'Come on in' which encourages people to stand with farmers and close the door on exploitation.
Schools throughout Renfrewshire have been further supporting Fairtrade Fortnight with activities, tuck shops and dedicated lessons to ensure pupils are aware of the important messages the cause involves.
For more information on fair trade visit: www.fairtrade.org.uk.
Published 6 March 2018.