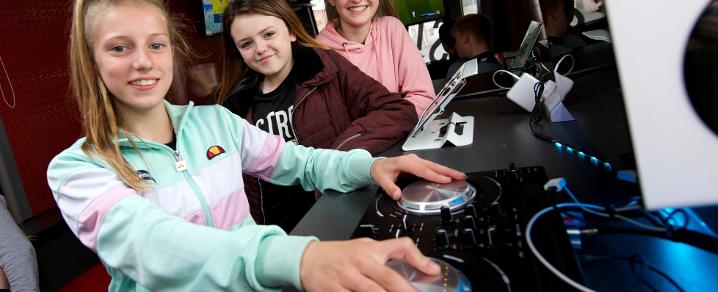 Free fun for kids at Street Stuff
Looking for free, fun activities for 8-18 year-olds?
Street Stuff has released its new timetable for February and March 2018, incorporating football, dance and sessions in the popular Youth Buses which have ipads, MacBooks and DJ decks onboard.
Schools, community centres and parks across Renfrewshire host the activities on Monday to Saturday evenings, and snacks are provided at some sessions.
Council Leader Iain Nicolson said the activities were particularly popular over school breaks as they got young people out and about in a fun and positive environment.
"I encourage parents to get the kids out of the house to enjoy a range of activities including street football with coaches from St Mirren Football Club, dance and clubbercise," Councillor Nicolson said.
"It's a chance for them to get fit and active and meet other people their age in a safe, healthy and positive environment.
"The new timetable has some extra sessions which reflects the growing popularity of the programme and the commitment of the coaches and volunteers who run it."
Street Stuff is a diversionary project run in partnership between Renfrewshire Council, Police Scotland, Scottish Fire and Rescue Service, Engage Renfrewshire and St Mirren Football Club.
The programme began in 2009 in Renfrewshire contributing to a reduction in youth disorder and anti-social behaviour by 75 per cent over the first five years with a sustained reduction of 65 per cent.
The new timetable is available on the Council website at: http://www.renfrewshire.gov.uk/streetstufftimetable
Published 12 February 2018