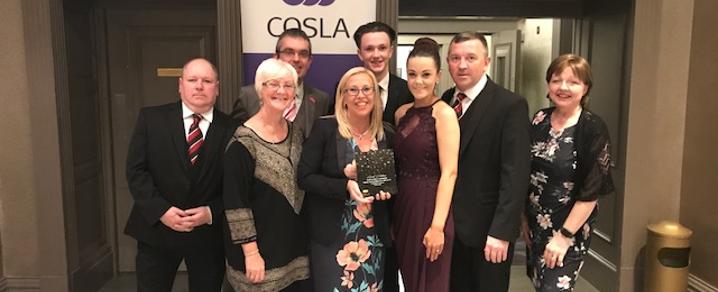 Street Stuff takes home top prize at COSLA Awards
Renfrewshire's Street Stuff initiative has won a top award from the Convention of Scottish Local Authorities (COSLA).
At the COSLA Excellence Awards ceremony in Edinburgh, Renfrewshire Community Safety Partnership and St Mirren FC team were awarded the top accolade for Street Stuff in the 'Local Matters' category.
The awards celebrate the very best in Scottish local government, spreading the word about projects that deliver local solutions with innovation, creativity and passion. The Local Matters category focuses on the unique impact of local services.
Street Stuff runs in partnership with St. Mirren FC, Police Scotland, Scottish Fire and Rescue Service, Engage Renfrewshire and Renfrewshire Council, and has been making a difference locally since 2009. The youth diversionary scheme provides a range of activities across Renfrewshire and has significantly helped reduce and maintain a 65% reduction in youth disorder and anti-social behaviour. Football, dance, gaming and clubbercise are just some of the activities Renfrewshire's young people can get involved with.
Councillor Marie McGurk, Renfrewshire Council's Convener of Communities, Housing and Planning Policy Board, said: "My congratulations go to everyone involved with the Street Stuff project. Over the years, the scheme has gone from strength to strength and I would like to thank everyone who takes part in it for making it such a success. Winning the COSLA Local Matters award is a huge accolade and proves how worthwhile Street Stuff is to our communities.
"Renfrewshire's Street Stuff project has been really beneficial for our local young people. Participation levels remain high and our latest figures show that over 43,000 kids took part in activities in over 20 locations throughout Renfrewshire last year.
She added "The team at Street Stuff fully deserve this recognition. They have galvanised the community to pull together to make a difference to people's lives. That's what the Local Matters award is about. The result of the work that the Street Stuff project entails has set a new standard for excellence throughout Renfrewshire."
· Street Stuff has been delivering activities in Renfrewshire since 2009, delivering a sustained reduction in reported youth disorder and anti social behaviour.
· Across Renfrewshire there has been a 65% reduction in youth disorder and anti-social behaviour since the programme began
· There has been a 72% increase in participation levels over the past 2 years (25,000 to 43,000)
· Over 43,000 participants took part during 2016/17 - an increase of 6,000 from the previous year.
· The programme now offers a range of activities such as football, dance, gaming and clubbercise.
Published 06/10/17