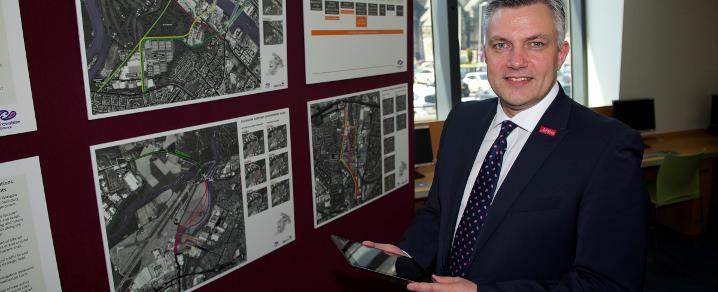 What will the City Deal do for your community?
See the plans and have your say
The Glasgow City Region City Deal is investing £274m in three major infrastructure projects in Renfrewshire. These will bring great economic benefits and job opportunities and it is important that residents are aware of the plans and have a say in building their successful futures.
Community events are taking place in Renfrewshire, Clydebank and Yoker throughout May and June 2016. Residents are invited to see the plans, meet the City Deal team and express their views on these exciting developments. See our Renfrewshire City Deal Projects - Latest News and sign up to our 'City Deal' mailing list at www.renfrewshire.gov.uk/citydeal to be kept informed of our public engagement events.
Councillor Mark Macmillan, Leader of Renfrewshire Council said, "Renfrewshire's communities stand to gain a tremendous amount from our three City Deal projects. They will help our economy to grow and create employment, improve our access to further work and leisure opportunities, and make Renfrewshire home to three modern, innovative, landmark projects.
"It is important that communities are part of this progress. I'd urge anyone with an interest these new developments to come along to our events, see what's planned, and express their views on how the projects will work best for them."
You can also read further details on the proposals and provide feedback online at www.renfrewshire.gov.uk/citydeal.
The Clyde Waterfront and Renfrew Riverside (CWRR) project will build a new bridge across the Clyde linking Renfrew and Yoker / Clydebank areas. The project also includes new roads to increase accessibility to new travel and employment opportunities. It will also create potential for business growth, new jobs and new residential developments.
The Renfrew crossing will be an exciting addition to the Clyde - and its only opening road bridge. Residents with an interest in this new piece of engineering - and in how it will improve life in Renfrew - can see plans and discuss the project with the City Deal Team at the community events.
The Glasgow Airport Investment Area (GAIA) project will improve connections between the Westway, Inchinnan and Airport Business Parks, with plans for two new bridges across the White Cart and a new 'Gateway Route' between Paisley Town Centre and the Airport.
This investment is expected to generate business growth, attract inward investment and support the airport's growth. The GAIA underlines Renfrewshire's pivotal role in the City Region's economy but, above all, it will create conditions for business growth and employment opportunities.
Residents with an interest in this modern and enterprising project are invited to come along to a community event where the plans will be on display and the team can listen to your views.
The third City Deal investment in Renfrewshire is in the £144m Airport Access Project (AAP); a new fixed link connection between Glasgow Central, Paisley Gilmour Street Station and the airport. This will support the airport's continuing success with an efficient, fast and modern transport option for air travellers and airport employees.
The AAP is at an earlier development stage than the other projects but visitors to the community events will be able to see plans and discuss the new link with the project's managers.
Public exhibitions showing the options for infrastructure being considered on the CWRR & GAIA projects were held in the communities in the vicinity of the potential works. These events were held in Paisley, Renfrew, Clydebank and Yoker communities during May and June 2016.
If you missed the opportunity to meet the team and see the plans and how they'll benefit your community you can still view the proposals - details can be found in 'related documents' section of this page.
Unfortunately, in order to allow comments received to be considered by the project teams as part of the appraisal process, the opportunity to provide feedback on this phase of engagement closed on 01 July 2016. However, there will be opportunities to view the updated plans for the preferred options at similar events later this year. Update: Dates and times of these events have now been announced - click here for more details.
You can also sign up to our City Deal mailing list to be notified when these type of events are announced.