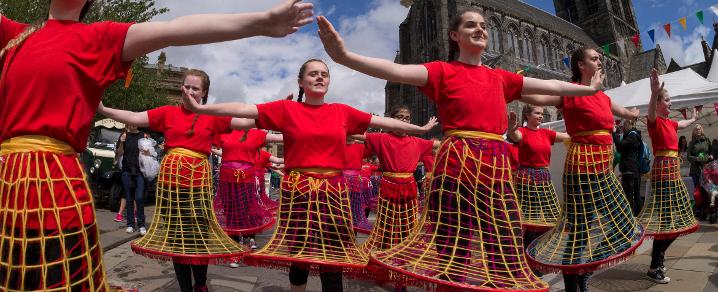 Weave Festival and Sma' Shot Day (Fri 30 June to Sun 2 July)
Date: Friday 30 June to Sunday 2 July
Where: Paisley Town Centre
For Scotland's Year of History, Heritage and Archaeology Paisley's Sma' Shot Day will be celebrated with a two-day festival with a wrap-around cultural programme called 'Weave'. The festival is rooted in Paisley's radical weaving heritage and celebrating it's unique and historical Sma' Shot Day - Weave is a new, vibrant and colourful festival celebrating arts, activism and design.
The entire weekend (30 June - 2 July 2017) will be played out across Paisley's historic town centre, featuring the traditional colourful pageant led by the 'Charleston' drummer. Hundreds of participants and performers will wend their way through the streets in a dazzling depiction of Paisley's history as a global textiles centre.
Over the weekend, this family friendly festival offers live music, poetry, craft and design, kids' activities, dance, street performance and more to tell the
story of the weavers' rebellion, the iconic Paisley Pattern and its legacy for modern day makers and artists.
Visit www.Paisley2021.co.uk/weave-festival-and-sma-shot-day for more information on exactly what is happening during the Weave Festival and Sma' Shot Day.