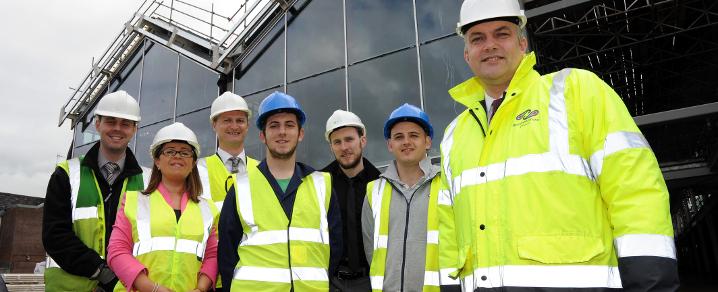 For Renfrewshire's businesses
The right place at the right time...
City Deal investments will transform Renfrewshire's business and investment potential by attracting investment and offering businesses better connections to customers and suppliers throughout the City Region.
The planned work includes a direct link to Glasgow Airport as well as an extensive new network of roads, paths and bridges as part of the Clyde Waterfront and Renfrew Riverside Project and to create the new Glasgow Airport Investment Area.
These projects which are part of the £1.13 billion Glasgow City Region City Deal, are expected to unlock Renfrewshire's immense economic potential by improving the connections between key business sites, residential areas, and the wider transport network. They will raise Renfrewshire's profile and place it at the centre of the region's growth.
During the design and construction phases, opportunities will exist for a variety of different sizes and types of businesses to get involved as we work together to deliver a wide range of projects within Renfrewshire.
---
Supporting our communities
Our people and communities are at the centre of our City Deal projects as stakeholders, employees and advocates of the programme. In the short term, their daily lives may be affected by construction works. In the longer term, it is important that they benefit from employment opportunities and developments that will sustain and develop their communities.
All City Deal suppliers will be required to deliver community benefits in accordance with the City Deal

Community Benefits Strategy [480KB] .
---
Becoming a City Deal supplier
From the Public Contracts Scotland website you can view:
contract and sub-contract opportunities advertised for City Deal projects
support for tendering
The Glasgow City Region City Deal has also developed a

Community Benefit Strategy [480KB] and a collaborative

Procurement Strategy [4MB] . These were agreed by all 8 member authorities. Further information can be found on the Glasgow City Region website.
The Supplier Development Programme also provides a series of events to support businesses of all sizes with varying levels of experience of tendering for public sector contracts. More details are available from the Supplier Development Programme website.
---
Supplier Events
The City Deal procurement teams are running a series of supplier events throughout the region to meet businesses, provide project updates and highlight opportunities.
A free Supplier Engagement event was held in Paisley Town Hall on 29 August 2016 for small and medium sized businesses to provide them with the advice and training they need to bid for work under the £1.13billion Glasgow City Region City Deal.
The event raised awareness about City Deal projects and the potential opportunities they represent for businesses. It also highlighted the help and support already available to enable small and medium sized enterprises, contractors and suppliers to get 'tender ready'. East Renfrewshire and Renfrewshire councils are hosted the event with support from the Supplier Development Programme (SDP).
Further information on the support available can be found on the Supplier Development Programme website; www.sdpscotland.co.uk/events/citydeal.
To help inform the development of the procurement process, a Market Engagement event was held with organisations who would propose to bid for the City Deal construction contracts as Tier 1 contractors (for CWRR & GAIA). The event, which was advertised on the Public Contracts Scotland website was held on 18th & 19th January 2017 and also included opportunities for all organisations to network and develop relationships with likely Tier 1 contractors and other organisations.
---
Invest in Renfrewshire
The council's business support and employability initiative has worked with more than 850 Renfrewshire businesses to encourage their growth with help on funding, staffing, skills development and premises. Invest will help Renfrewshire's businesses make the most of City Deal opportunities and local economic regeneration.
For more information, call 0300 300 1180, email invest@renfrewshire.gov.uk or visit the invest website for more details of the support available.