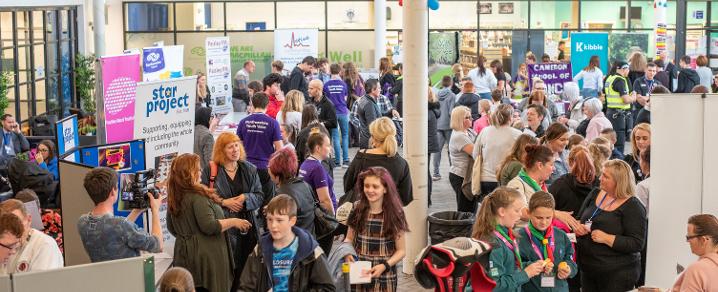 Young people in Renfrewshire encouraged to apply for share of £150,000 Celebrating Renfrewshire Fund
Young people can create, design and deliver projects in Renfrewshire thanks to a £150,000 fund which aims to make the area a better place to live for young people.
Applications for the Celebrating Renfrewshire Fund - by young people, for young people - opened on 24 August and aim to give young adults and teenagers a voice in their community and a chance to shape how life in Renfrewshire will be for them.
Renfrewshire Youth Voice Vice Chair, Gavin Stewart said: "This is an incredible opportunity to get involved and get funding to make a real change to your local community. If you have any ideas, please be sure to apply!"
Who can apply and how?
Anyone aged 12-25 can apply to a maximum of three Local Partnerships for up to £2,000, ensuring they meet at least one of five priorities set out by local youth group Renfrewshire Youth Voice.
These are: Youth involvement & participation, sport & physical activity, promoting positive mental health & wellbeing, employability & youth development, and new projects in response to Covid-19.
Applicants can also be a group that works with young people aged 12-25 and this includes schools - if they can show that the project will benefit the whole community.
The deadline for this year's applications is 13 September 2020.
For more information, and to submit an application, visit Celebrating Renfrewshire.
Can you get additional support?
Support sessions provided by Renfrewshire's Youth Services team will be available online for young people who need assistance with their application and can be accessed via here - Celebrating Renfrewshire - online support.
Once applications close, young people will be able to vote via the Young Scot platform for their favourite projects and these will be awarded funding as part of the participatory budgeting process.
What happened last year?
Last year, there were 43 successful projects and these included a new changing facility for St Mirren YFC to support local young people into football, a music library for Erskine Music and Media to aid tuition and support their commissions, and funding for Lamont Farm Project to continue to provide a wildlife experience in Erskine.
Also successful were Renfrewshire Carers Centre to support local young carers, Braehead Junior Ice Hockey Club to ensure young people can try and take up the sport and Linwood, Johnstone and Gryffe Community Sports Hub to ensure improve access to sport and exercise for young people in the area.
You can see all the projects which received funding here - Celebrating Renfrewshire 2019.
What are people saying about it?
Councillor Michelle Campbell, Renfrewshire Council's Young Persons Champion, said: "I'm delighted that this fund has reopened for another year as it gives young people a real opportunity to design a community that they want to live in.
"They come up with the ideas and it is other young people who decide what to take forward to make Renfrewshire a better place to live as a young person.
"An award of up to £2,000 can make a real difference and will empower young people to make change in their lives now and in the future.
"I can't encourage young people enough to take the plunge and submit their applications - you won't regret it."
Published 24 August 2020.