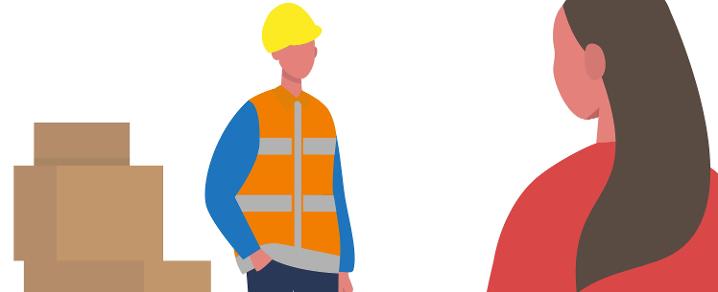 Last reviewed: 18.00, 24 Aug 2020
Working safely at a facility or depot during the coronavirus pandemic
Changes to the workplace, keeping you safe at work, if you start to feel unwell at work, travel to work, health and wellbeing, shielding, annual leave and special leave, FACTS.
Health and safety measures in the workplace
Health and safety measures are in place for all our facilities, depots and bases open for support care services and frontline teams. These measures may change as new rules or restrictions come into effect. Make sure you follow the guidelines below and keep an eye on the posters and signage advising you of the current coronavirus safety measures at your workplace.
If you work in any council workplace, you should follow this guidance when you're at work:
wear a face covering in all council buildings and vehicles, unless you're sitting at a physically distanced desk, workspace or canteen
keep 2m (6ft apart) wherever possible
regularly clean and disinfect anything you touch frequently, such as surfaces, telephones, keyboards, door handles, desks and tables
wash your hands often with warm water and soap, or hand sanitiser
clean items you've used in shared kitchen areas with warm water and detergent and dry them thoroughly
do not leave any food open for communal sharing, unless individually wrapped food such as crisps and sandwiches
wear the appropriate personal protective equipment (PPE) if it's required for your work
Managers and supervisors should make sure hand washing and drying facilities are available for all staff, contractors, service users and visitors.
If you make home visits, follow the guidance for:
---
Enhanced cleaning regime in workplaces
There will be fewer shared facilities and more rules in place about how you use them, including:
restrictions on the number of people allowed in any council vehicle
enhanced hand sanitising and other hygiene measures
physical distancing measures will be in place
fewer desks will be available
meeting rooms will have less capacity
all surfaces, equipment, chairs and tables must be cleaned with the products provided in cleaning caddies, before you leave work
one-way systems, with one entrance and a separate exit.
---
Fire wardens
During the current situation, managers must make sure there is adequate fire warden cover in their areas and, if necessary, take on the responsibilities of fire wardens themselves. Your local emergency evacuation procedures should outline the roles and responsibilities for fire wardens.
---
First aiders
Managers must make sure there is adequate first aid cover in their areas and, if necessary, take on the responsibilities of fire wardens themselves.
If you are a first aider, and you need to help a colleague who has symptoms of COVID-19 you should follow this

first aid advice [158KB] .
---
If you or a close contact show symptoms of COVID-19
What to do if you or a close contact develops symptoms of COVID-19 at work or at home, self-isolating, informing your manager, booking a test, if you test positive or negative, contact tracing, support and advice for staff and managers, returning to work.
---
Travel to work
If you live nearby and are able, you should walk or cycle to work wherever possible.
If you are driving to work, free parking is available at our depot car parks although spaces are limited.
If you must use public transport, don't board if you think it's not safe. Try to:
avoid busier times
maintain physical distancing
remember that face masks are compulsory on all forms of transport including buses, trains and taxis.
If you have any concerns about travelling to or from work, speak with your line manager in the first instance.
For the latest guidance on travelling within Scotland, check the Transport Scotland website.