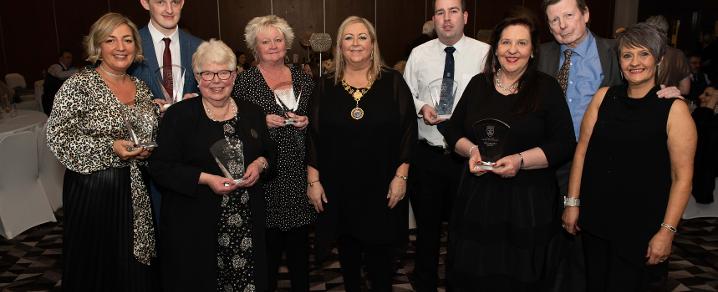 MEDIA RELEASE: Renfrewshire recognises inspiring local heroes
Renfrewshire has honoured local groups and volunteers for their work in the community at the Provost's Community Awards.
Renfrewshire's Provost Lorraine Cameron was joined by comperè Libby McArthur to help celebrate the achievements of devoted community members who go above and beyond to make Renfrewshire a better place to live and work.
The award winners were invited to a special ceremony at the Normandy Hotel in Renfrew after being chosen from more than 50 outstanding nominations submitted by their peers in the local community.
Renfrewshire Schools Clarsach Group provided music as guests arrived at the ceremony. Preceding the presentation of the awards, guests were entertained by Starlight Youth Music Theatre Group who performed a selection of Motown Classics.
The recipients of this year's awards were:
Arts and Culture (sponsored by Renfrewshire Council) - Catherine Craig
Carer's Award (sponsored by former Provost Nancy Allison) - Linda Clark
Community Group (sponsored by City Gate Construction) - Rays of Hope
Community Volunteer (sponsored by Glasgow Airport Ltd) - David Love
Employee of the Year (sponsored by UNISON Renfrewshire) - Pamela McKechan
Sporting Achievement (sponsored by Acre Industrial Services Ltd) - Harrison Lovett
Renfrewshire's Provost Lorraine Cameron said: "The Community Awards recognises those who really go the extra mile to make Renfrewshire a better place without looking for reward or recognition.
"These winners were all nominated by their own communities and I'm honoured to be able to reward them for their dedication and commitment.
"Congratulations to all our winners, your hard work does not go unnoticed."
The Provost's Community Awards were first established in 1997 by former Provost Nancy Allison, who continues to sponsor the Carers Award today.
The awards have been continued by each subsequent Provost and have recognised more than 100 deserving community members for their commitment and devotion.
For more information on the Provost's Community Awards, visit www.renfrewshire.gov.uk/provostawards.
Published 16 March 2020