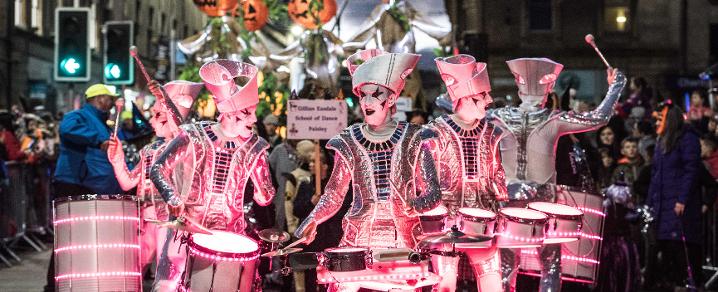 Paisley Halloween Festival wins top prize at Scottish Thistle Awards
Paisley Halloween Festival has been named Best Cultural Event or Festival at the Scottish Thistle Awards 2019/2020 National Final.
Organised by VisitScotland, the prestigious awards celebrate innovation, excellence and success in the Scottish tourism sector.
The popular event in Renfrewshire Council's annual calendar picked up the National Award for its 2018 festival, which saw crowds of over 34,000 people flock to the town across two days to enjoy a bumper programme of spectacular aerial performances, thrilling live acts and a Mardi-Gras style parade with more than 500 costumed performers.
Inspired by the town's dark and deathly 17th century witch history, the enhanced theme of 'Something Wicked this Way Comes' thrilled visitors from all over Scotland.
Judges were impressed with the seasonality of the event and the growth that it has seen in recent years. They also praised event organisers for their engagement with young people and the community.
The festival was a highlight of VisitScotland's Year of Young People 2018 celebrations, with young people at the heart of the festival's development and delivery.
A 20-strong Youth Panel worked alongside Renfrewshire Council's Events Team to design and deliver the programme, while more than 500 young people took part in a new creative learning programme. This provided young people with the opportunity to participate in all aspects of festival from performance to live event management and technical production.
The Scottish Thistle Awards is based on five regional programmes with the winners of each progressing to the National Final.
Paisley Halloween Festival was among 15 winners in the regional finals for the West in November - which included businesses and individuals from Greater Glasgow & The Clyde Valley, Ayrshire & Arran, Dumfries & Galloway and Argyll & Bute.
The National Final took place at the Edinburgh International Conference Centre last night (March 5), and saw 18 individuals, businesses and events honoured for their contribution to the tourism sector.
The Scottish Thistle Award marks another celebration for the Paisley Halloween Festival after it won Best Festival or Outdoor Event at the EventIt E Awards in June 2019.
The Paisley Halloween Festival is organised by Renfrewshire Council and and the 2018 event was supported by the Year of Young People 2018 event fund managed by EventScotland, part of VisitScotland's Events Directorate.
To find out more about the Paisley Halloween Festival, visit: https://paisley.is/featured_event/halloween/
For more information on the Scottish Thistle Awards, visit: https://www.scottishthistleawards.co.uk/
Published on Friday 6 March 2020.