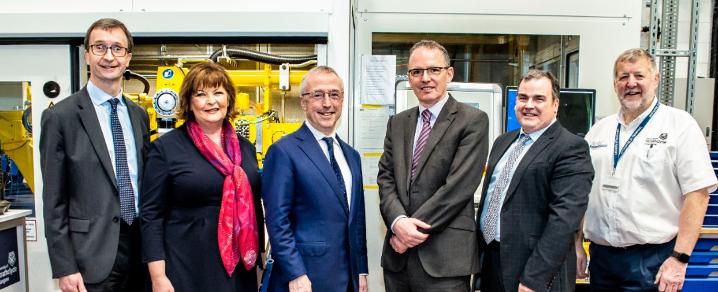 Strategic alliance sees Boeing touch down in Renfrewshire
Boeing, the world's largest aerospace company, has confirmed it is establishing a research facility in Renfrewshire as part of a new strategic alliance.
The USA's largest manufacturing exporter is setting up a workspace in the Advanced Manufacturing Innovation District Scotland (AMIDS) as part of an £11.8million research and development project with the University of Strathclyde's Advanced Forming Research Centre, part of the National Manufacturing Institute Scotland (NMIS).
The project is supported by £3.5million of R&D funding from Scottish Enterprise and will see Boeing establish an R&D team in Scotland to look at metallic component manufacturing as the basis for future aircraft components.
This project is one of the initial activities to emerge from a strategic agreement signed today between Boeing and Scottish Enterprise.
Called the Boeing Scotland Alliance, it will explore opportunities to work together in Scotland, with the aim of doubling Boeing's supply chain - which could be worth tens of millions of pounds to the Scottish economy - and creating 200 new quality jobs over the next five years.
Welcome to Renfrewshire
Welcoming the announcement, Renfrewshire Council Leader Iain Nicolson said: "It's fantastic news that Boeing is choosing Renfrewshire, NMIS and the Advanced Manufacturing Innovation District Scotland (AMIDS) as the location for its new research and development project and I am sure this strategic alliance will bring exciting new jobs and opportunities to the region.
"The arrival of Boeing is a significant step in the development of AMIDS, Scotland's dedicated district to manufacturing innovation, and I believe many more manufacturers will be keen to locate their business on this unique campus environment which is fostering collaboration, promoting sustainability and enabling companies to tap into new manufacturing technologies and access cutting-edge research."
Full story
For the full story and reaction from Scottish Government, Boeing, Scottish Enterprise and University of Strathclyde, visit the Scottish Enterprise Media Centre.
About AMIDS
Renfrewshire Council is leading development of the Advanced Manufacturing Innovation District Scotland, in partnership with Scottish Enterprise and Scottish Government.
The district - the only one of its kind in Scotland - will be internationally-recognised for advanced manufacturing, leading innovation and research and driving sustainable growth in the Scottish economy.
At its heart is Netherton Campus, a 52-hectare site next to Glasgow Airport which will be home to NMIS and the Medicines Manufacturing Innovation Centre.
Published on Wednesday 4 March 2020