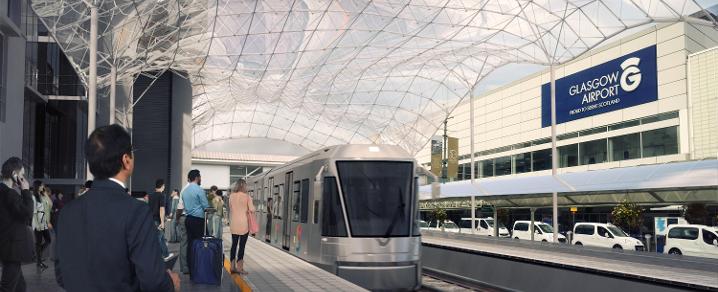 Airport Access Project
The Glasgow Airport Access Project (AAP) is the Glasgow City Region City Deal's flagship project and emphasises the importance of Renfrewshire's role in the future economic success of the region.
The project will provide a fixed link between Glasgow Central Station and Glasgow Airport via Paisley Gilmour Street station. This will make it easier for passengers to get to the airport and help local employees to get to work there while also improving access for other businesses in the area.
Carrying more than nine million passengers each year, Glasgow Airport's continuing success and expansion is vital to the wider economy of the City Region area and to Renfrewshire's economic development. The AAP will support this growth by offering an improved experience and better connections to all areas of the City Region, improving links with the wider transport network.
The project is expected to create jobs during its construction period in addition to longer-term posts in operating and maintaining the new service. Its most substantial and lasting benefit will be in jobs created by the business growth resulting from Renfrewshire's improved connectivity and inward investment.
The AAP will consolidate and extend the benefits of the other two infrastructure projects in Renfrewshire; the Airport Investment Area and the Clyde Waterfront and Renfrew Riverside developments. It will help to open up the City Region, allowing the city to grow and also unlocking Renfrewshire's economic potential.
A series of reports since 2009 has emphasised the need for this link and work is underway to identify the best solution.
The AAP will be delivered jointly by Renfrewshire Council and Glasgow City Council and involve key stakeholders including Glasgow Airport, Transport Scotland and Network Rail.
Keep Me Posted
Subscribe to our City Deal mailing list to receive email updates on Renfrewshire's Glasgow City Region City Deal projects.