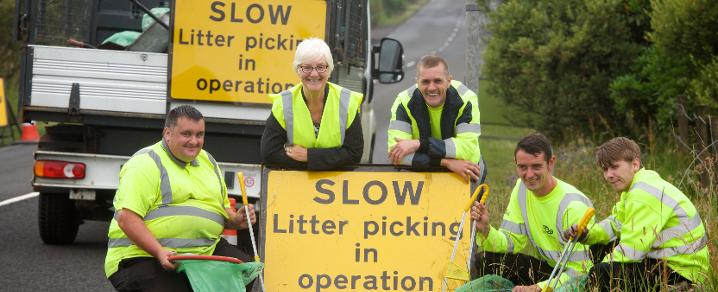 Our Rapid Response Teams
Who are the Rapid Response Teams (RRTs)?
Made up of Community Safety Wardens, the RRT are the Council's mobile patrol squad which aims to boost civic pride in Renfrewshire.
The team provides a fast-track service for preventing the build-up of unsightly rubbish and street clutter.
This work supplements the routine street cleaning and waste disposal work done by the Council hard-working waste employees.
We have also established a Roadside Litter Rapid Response Team who work to tackle roadsides across Renfrewshire on which litter has been discarded, often from cars, vans or lorries.
What do they do?
The team undertake daily street patrols on week days, on-the-spot removal of offending items where possible and offering advice and information to traders and residents on waste
They also work to remove waste which causes the most everday nuisance, offence or slip and traffic safety risks including:
stray trade and commercial waste
uncollected househol bin bags
illegal flyposting
fly-tipping of food, construction materials and household goods
unsightly street litter and overflowing litter bins
The Roadside Litter RRT put signs out along a stretch of road, which are often rural or high speed roads, which urge drivers to slow down and advise that the team are by the roadside.
They then litter pick the area to make it cleaner and brighter for motorists using our roads every day.
Where can I find them?
The RRT rotate their areas of work on a daily basis to ensure that they can tackle issues across Renfrewshire.
Usually beginning in the larger town centres of Renfrew, Paisley and Johnstone, before moving out to the other towns and villages, the team are always on hand to respond to calls across the region should their be an instance of littering or fly tipping spotted in Renfrewshire.
The Roadside Litter RRT have a programme of work across Renfrewshire which tackles known problem areas as well as any reports by the community.
The Wardens and both our RRTs will always be happy to help you with any issues you may have so don't be afraid to say hello when you spot them out on the streets!
How can I request them?
You can call 0300 300 0380 to report any issues.
The RRTs have a programme of work to undertake and issues will be assigned to the team where appropriate.