MyAccount
Free, 24 hour access to council services. Quick. Simple. Secure.
With MyAccount you can:
make a payment
arrange an uplift of bulky waste
apply for council tax discount, exemption or reduction
check your council tax balance and payments
set up a direct debit for council tax
tell us about a change of address, household details or circumstances
order a certificate (birth, death, marriage, civil partnership)
view your rent account balance and payments
apply for housing benefit or discretionary housing payment (DHP)
new service added - order a certificate
View a list of services available on MyAccount
Create an account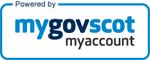 Registration and sign-in is powered by the Scottish Government's 'myaccount' service. It checks who you are and allows you to use a single account to access a range of Scottish public services online.
You'll need an email address. Use as your login after we send you the link to activate your account.
You only need to complete the registration process once. From then on you can use your username and password to access a range of council services.


Click the 'Sign-in | Register' button at the top of the page
Select 'Register for MyAccount'
In the 'Create a new Account box' select Register
Complete the form
We'll send you 2 emails to confirm your username and give you a one-time password
Activate your MyAccount
Join the 34,000 customers who have already registered.
Here's what some of them have had to say:
"Very easy and stress free!"
"Outstanding!"
"Efficient service, easy form to fill in"
"Good site to use and well done to the IT folk that put it together"
"Very easy to follow"
"Site was very easy to use"